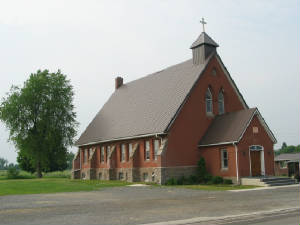 W E L C O M E !
Welcome to Victoria United Church's website! This site is a resource for members of our congregation and all who visit here to find out about services, upcoming events, and activities.
We hope that after visiting our site, you'll visit us in person.
Victoria United Church is located near Prescott, on County Road 26, in Maynard, Ontario. Services are at 10:30 a.m.
Come back often to see what's going on at Victoria United Church!
Address: RR#2 Prescott Ontario K0E 1T0
3540 County Road 26 (3rd Concession)
Phone: 613-925-2530
Minister: Reverend Kathleen Petrie

Web Site Administrator: Terri Beach